What is this
This tool collects tag information from photographs images in internet resources. This tool is very easy to understand how to use it. Make sure to rich tags for your photographs and images. Also you can buy good photo in the results.
写真のタグ付けを効率よくするためのツールです。既存の写真がどのようなキーワードを使用しているか調べることができます。フォトストックにあなたの写真を登録する際の手助けになるでしょう。更に検索結果から気に入った写真を各フォトストックサイトより購入することもできます。
This tool is inspired by Yuri Arcurs' free keywording tool and PHOTO TAG.
How to Use

Input keyword for searching image.
キーワードをイメージを入力して検索します。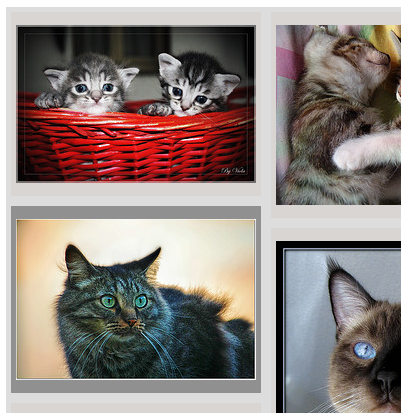 Select images. It depends on your impression and feeling.
検索結果のイメージから自分のイメージに合うものをクリックします。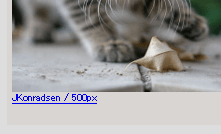 If you like photo that you picked up, click on a link you can buy it from the photo stock if applicable.
検索結果のリンクから写真を購入することもできます(購入オプションを提供している場合)。

Tool collects tag information from images. And then provide tags and statistics data.
クリックしたイメージに使われているタグが表示されます。

Pick up tags that fit your image or you want to use. Finally, you can get tag list. It is able to sort the results drag and drop manually.
使いたいタグを選択すると一覧が表示されます。タグの順序を変えることができます。ドラッグアンドドロップしてください。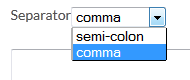 You can choose output separator. Support CSV and semi:colon Format.
区切り文字を選択できます。フォーマットはCSVなどが選べます。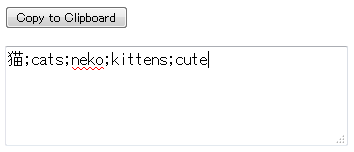 Copy tag list to clipboard.
クリップボードにタグリストをコピーできます。

Click your image file on Windows and then put tag list into the field.
タグリストを自分のイメージに適用してください。
History
v20190901
Updated UI, added select Top15,25 tags function.
v20190707
Updated UI, using Vue and related framework. Added image source by Unsplash (officially).
v20190501
Added image source by Unsplash (experimental). Removed 500px and fotolia from image source.
v20180513
Maintenance updated at server side.
v20180311
Change JS libraries. Removed old browser supported.
v20180309
Fixed main function does not working issue.
v20180306
Rollback code base to v20161212. But main function does not working. Changed defaults separator is comma.
v20170120
Changed defaults separator is comma.
v20161113
Separated js library for old and modern browser. Use jQuery 3.x for modern browser.
Show number of selected tags.
Improved performance a bit.
v20161016
Improved IE support and performance.
Replace clipboard library.
v20150913
Renewal server side coding with Ruby.
Added image source by fotolia
v20150828
Added table filter, invisible items with count = 1
v20150614
Added image source by Shutterstock
v20150607
Added image source by 123RF.com
v20150529
Added image source by Pixabay
v20150507
Added changing separator functions. Improved interface.
v20150505
Added image source by 500px (but 500px has shutdown API. This tool not show resutls from 500px)
v20150503
Added shuffle function and photographer info in the results.
v20150405
Added tag sort function. Improved interface.
v20150326
Improved interface.
v20150315
This is first beta version. image source by flickr.
License and libraries Information
Thanks! This tool use a lot of open source libraries. List is here.